Surf Bikini Retreat offers guests the option of either a shared Room or a private Room all to yourself. Whatever you decide all options are part of the all-inclusive package as outlined below. To reserve a spot please send us your preferred dates and we will get back to you immediately with confirmation of availability. Upon receipt of your non-refundable 25% deposit we send email confirmation your reservation is all set. Please note that your reservation cannot be guaranteed until the deposit is paid. The final balance of your package will be due 8 weeks prior to arrival. Surf Bikini offers discounts for families and groups of three or more. Please contact us to discuss the discounts on offer.
As a "boutique" destination Surf Bikini takes great pride in getting to know our guests personally. In order to create an environment of intimacy Surf Bikini Retreat accepts a maximum of 8 guests per week. Therefore, spots may be limited. To ensure your spot it is highly recommended you make a reservation with us at least 3-4 months in advance.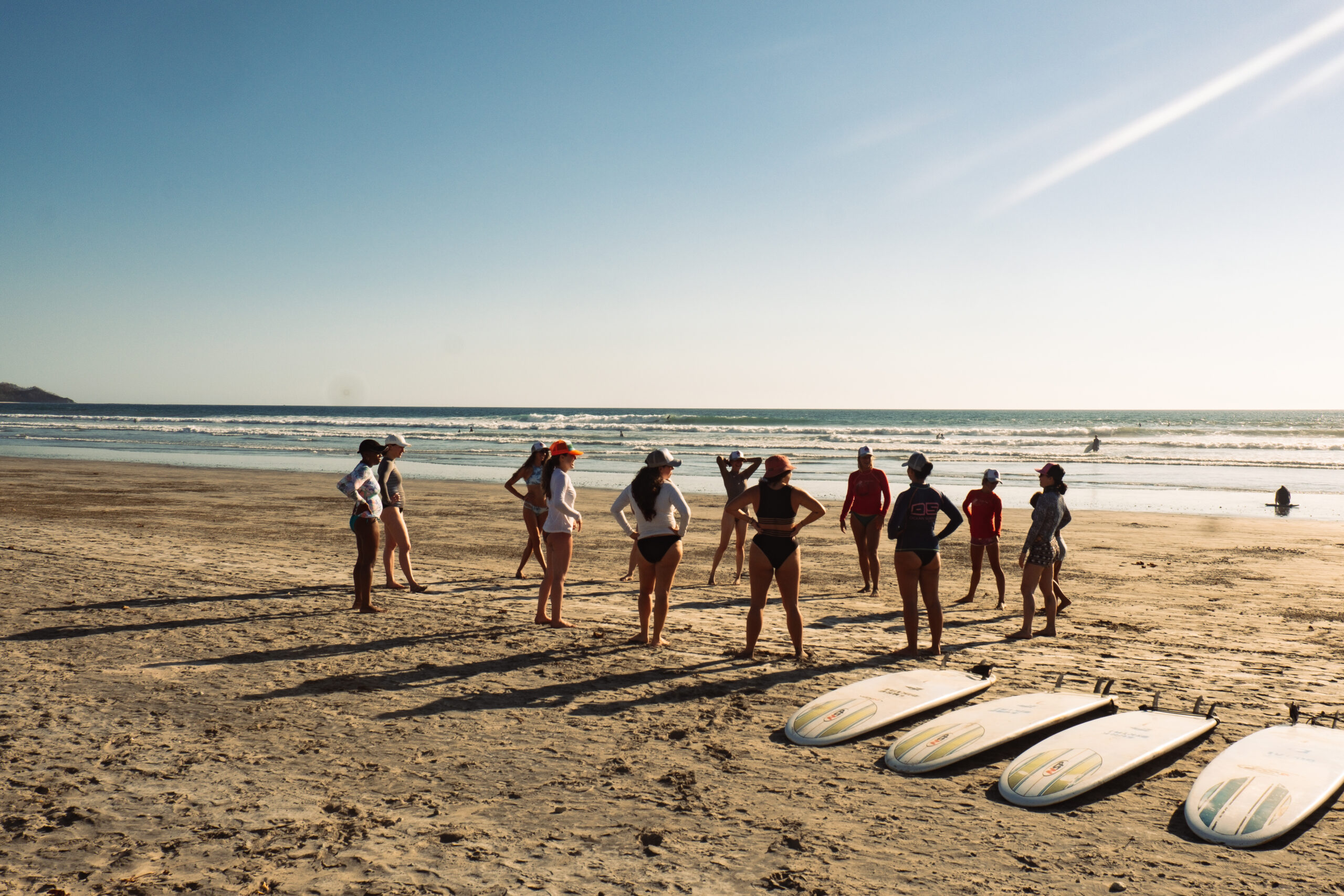 Surfer's Lifestyle -All Inclusive 8 day/7 night package ( Saturday to Saturday)
Option 1- Triple occupancy $1999 (per person)All year around. *Only available for BFF (one queen bed and one single bed).
Option 1 – Double Occupancy (per person) $2350 All year around.
Option 3 – Single Occupancy $2950 All year around.
Our all-inclusive package has been custom tailored to achieve one simple goal: to take care of everything you could possibly need in order to free up your mind and your precious time to concentrate on your surfing. The all-inclusive package is the perfect foundation for a fun, hassle-free, relaxing vacation in a beautiful Costa Rican natural setting.
 All Inclusive package features:
• Welcome package.
• Accommodations for 7 nights (Saturday to Saturday).
•  Transfers to and from Liberia International Airport, at our designated departure time and date.
• Three Yoga classes
• Complimentary one hour message
• 18 hours of Professional Surf Lessons – custom designed to match your ability and fulfill your goals.
• Daily assessment and feedback from certified surf coaches
• Video analysis sessions from our certified surf coaches
• Photo shoot to capture your finest surfing moments (Bring a memory stick to take home your pictures)
• Surfboards and all equipment.
• Three meals per day (Breakfast, Lunch, Dinner) – The Surf Bikini Retreat menu features 100% natural, healthy produce including local fresh fruits, vegetables, fish, and farm produce. All your meals are included except for Wednesday Dinner, which is your free day to explore Nosara and enjoy a complimentary message.
• Daily Fresh post surfing Pipa (coconut)
• Morning Nature walk with stunning views, beautiful plants and exciting wildlife!
• A minimum of two evenings dining at the finest local restaurants. (Alcohol not included)
• Shopping Day, this is a free day to relax, kick back and get to know the girls while shopping and dining in Nosara village. Along with a range of boutique clothes stores and trade and craft vendors, a visit to Nosara village is also an opportunity to indulge in some of the best homemade ice cream on the planet.
• Sunset cocktails and tropical drinks – the perfect way to experience the tropical light show that is the Nosara sunset.

What is not included in the All inclusive package:
Your flights into Costa Rica are not included in the package. Other than that when we say all-inclusive we mean all-inclusive. From the moment you touch down in Liberia International Airport (2.5 hours drive from Nosara) your every want and need will be covered. For guests arriving into San Jose International Airport (5 hours from Nosara), send us an email and we'll tell you the best travel options to get to Nosara.
After a few days of strenuous surfing and yoga you'll need a day to unwind and let your muscles recover. That's why Wednesday are set aside for relaxation, exploration, a massage, or whatever activity you desire. After a healthy, delicious breakfast and lunch at Surf Bikini Retreat the day is yours to do whatever you wish. Dinner is on you, which gives you the opportunity to explore one of Nosara's many fantastic eateries.
Note: To secure your reservation we require a 25% deposit . This deposit can be made using PayPal. For your initial 25% deposit we do not require the 6.8 % PayPal fee be included in your deposit. If you opt to settle your balance using PayPal the 6.8% fee will be added to your total. Upon arrival at Surf Bikini Retreat you also have the option to pay cash. Once you have selected your dates and accommodation preference, please, either give us a call at (506) 8828-0828, [Wow-Skype-Buttons id=1] or email us at info@surfbikininosara.com.